Last week a food blogger had an idea …
A food and wine blogger death match in an arena filled with meatballs, marinara sauce and Molinara :)
Hahaha! Ok, not really, but I need to keep that in mind for a future blog post / blogger showdown :)
So back to the idea, Emily, the food blogger behind Defining Delicious, had an idea to bring together some San Antonio wine and food bloggers. Aside from the dire need for us all to have good food and good wine in front of us at all times, the real reason for this meetup was to bring the Alamo City's vinous and culinary blogging voices together to bring more attention, focus, light, critique, etc. on the delicious things happening here!  So many other cities have platforms for local bloggers to network, discuss, share (give each other even bigger blogger heads :P) but San Antonio in all its rapid growth is just a wee bit behind on the food and wine blogger meetups … but I have a feeling that won't be the case for much longer.
So with this San Antonio Food & Wine Blogger meetup conceived, Emily decided it might be a great idea to bring someone who knows a thing or two about food and wine blogging as well as someone who comes from a city where the food and wine bloggers fraternize regularly :P. She turned to one of the food and wine blogging big dogs, the Austinite Dr. Musician Italophile, Jeremy Parzen (the personality behind the DoBianchi wine blog). Emily expressed her desires to Jeremy (not those kind of desires :P) and he agreed to help organize this SA Food/Wine Blogger meetup. Jeremy suggested the meetup take place at Luce Ristorante & Enoteca, a gem of an italian restaurant. The owner of Luce, Joe Buonincontri, had never hosted one of these blogger meet ups, but he knew if Jeremy was on board, he needed to be too … and my tummy is sooooo glad he did :) Additionally, Jeremy contacted Felicia of Serendipity Wine Distribution & Imports and asked if she would like to help out with the vinous side of the meetup … and my palate/liver is soooooo glad she did :)
Once the details were set, invites went out and I was ecstatic to receive one (I mean, being one of two civilian wine bloggers in San Antonio, makes that list an easy one … any future San Antonio wine bloggers out there?!)
I showed up to the event in my Vinously Speaking uniform and did my little "I love being a wine blogger" pose :)
My mom was my guest and did her little "I love being a wine blogger's Mom" pose :) Ain't she cute!
I had been to Luce a couple times before, but always when it was dark outside, so you can imagine my surprise when I noticed their oasis of a patio! Who wants to go back to Luce with me and have vino and antipasti on the patio?
The table was set with a sea of wine glasses and a back drop of walls full of wine bottles and gorgeous artwork.
And the menu was droolicious! I had to photograph someone else's menu because I drooled on mine when I was reading it :P
A parade of wines was awaiting us and I was ready to be their drum major!
We were offered a glass (or two!) of this divine Carpene Malvolti Prosecco Extra Dry (retail $20ish) . I have had this Prosecco many times before and let me tell you, it rivals some of the best grower champagnes I have had. (Shhhhhh, can you hear that? It is the sound of the Champagne vignerons, waving their fists at me :P) Delicate bubbles, aromas of apple and pear, a fresh acidity yet smooth on the palate, such an elegant wine! And don't forget … in a recentish law change, Italian wine law now states that Prosecco will now only refer to the italian DOC/DOCG regions that this sparkling wine comes from and producers making Prosecco from outside the DOCG and DOC region will have to use the new grape name Glera (an ancestor of the Prosecco grape) on their labels instead of Prosecco. Just a little FYI :)
After some mingle time, out came the first round of antipasti … Insalata di Mare … a seafood salad (I'll let you read the menu above for the ingredients for the following food photos). THIS WAS SEAFOOD SALAD WAS DELICIOUS! WOWZA!!
We also nibbled on some Pizza Bianco, mmmm!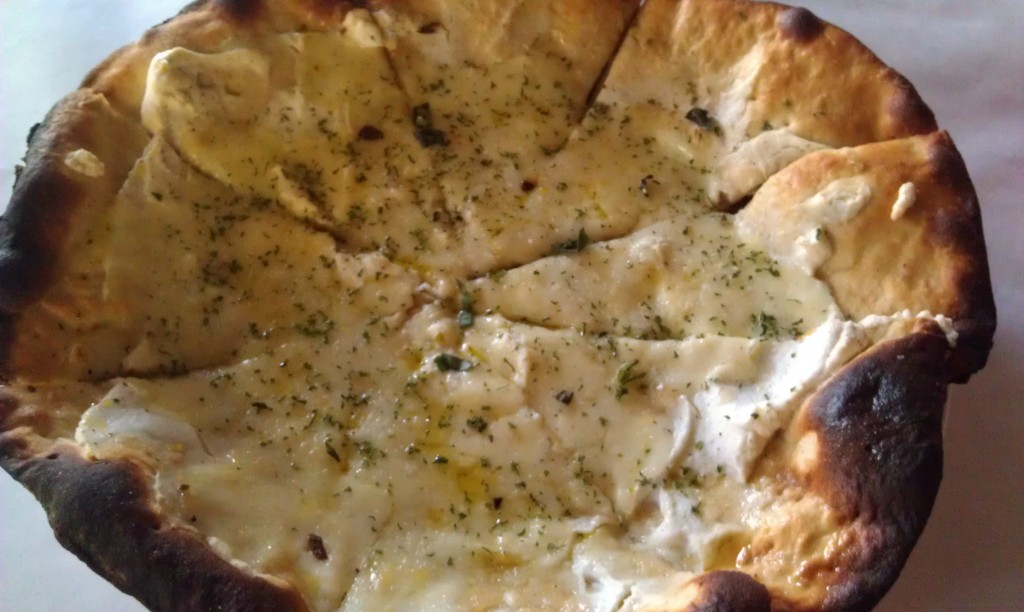 The wine pairing was spot on with the 2009 Livon Friulano (retail $18ish). This wine is made from 100% Tocai Friulano grape and has dancing aromas of almond, peach flowers, honeysuckle and nutmeg. This is the wine to turn to for those hot summer days, with seafood dishes, cured meats like prosciutto,  or for a luxurious pool juice :)
In true Italian fashion, no sooner are you slurping up the last nibbles of the first plates, then out comes the next round! A delicious and classic Pizza Margherita …
And some of the best 3 meat meatballs I've had! As Joe said, "A great meatball is as good as a prime rib!" And I can vouch for that!
We were forced to wash these two dishes down with a delicious summer red, the 2010 Paladin Salbanello (Retail $13ish) made from a blend of Malbech and Cabernet grapes. This wine with is fresh red fruit aromas and with a slight chill to it, makes it a perfect red wine to drink during the spring and summer months!
No sooner was I done ravaging the meatballs, when a plate of Rice Balls graced me with its presence … well hello :) We became INSTANT lovers :)
And then I cheated on the rice balls, the love at first taste that I had with the next red wine was just to much for me to remain faithful, but luckily for me they were both down for a delicious threesome! The 2009 Marchesi Incisa Valmorena Barbera D'Asti (Retail $18ish), made from the Barbera grape, was OUT OF THIS WORLD! (The link on the wine name is a neat video to watch about the wine and something I think more wineries should do). This wine was gorgeously balanced, with an orgy of violets, maraschino cherries, delicate acidity, and a finish like no other, Im getting randy just thinking about it :P
Next up was Pasta Fagioli! As this dinner fell on a Monday, Joe told us that in Italy, they follow a sort of weekly menu – Pasta Fagioli is a Monday dish. Wednesday and Friday are no meat days, so Polenta and Seafood are usually what's served. No matter what day it is though, Joe's Pasta Fagioli is something to ooooh and ahhhh over :)
This wonderful tomato based zuppa was beautifully paired with the gorgeous acidity of the 2009 Pasquale Pelissero Langhe Nebbiolo (Retail $24ish), made from the Nebbiolo grape, and its beautiful aromas of ripe cherry, currants, hints of cocoa and tobacco, and finishes with smooth tannins and a hint of chalk-like minerality.
And just when you thought we were done … nope! Milanese time!! Veal Scaloppini, arugula, citrus caper aioli … are those the ingredients for a little slice of heaven or what?
And just to be decadent, we paired this dish with the fabulous 2008 Colline Lucchesi Greo Rosso (retail $21ish), an Italian blend of Sangiovese, Canaiolo, Merlot, and Colorino produced in Colline Lucchesi, a little-known, up-and-coming wine region in Tuscany. Delightful and intense aromas of wild fruits and berries, earthy and floral notes, and hints of spice all summed up with a well balanced and lingering finish. A prefect pairing for red meat and game.
And I am just going to pretend like I had room for this whole dish of spumoni … I think I conquered 6 delicious bites before I surrendered to Bacchus and the gods of gluttony :)
Luce Ristorante & Enoteca … you made me drool … and now after writing this post I am drooling again … all over my laptop.
Before I wipe the drool of my laptop, I do want to say how delighted I was to mingle with the fantastic food and wine bloggers that evening! And here are their names and links to their blogs, so go check em out!
The Food Bloggers:
Oh My Puddin by Lauren
Defining Delicious by Emily
SA Food Nazi by Bryana
Geekette Bits by Heather
Mesa A Mesa – Eva
The Wine Bloggers:
1337 Wine by Mark
Do Biachi by Jeremy
And I hope we have another meet up very, very soon!