by Veronique Barretto 
Does drinking wine ever make you think of music?
Have you ever taken a sip of that delicious vinous nectar and the first thought through your mind is a song? Or a melody?
Or perhaps the words someone uses to describe a wine makes you recall a song?
Well it happens to me quite a bit, but most recently a wine made me think of an entire album!
I had the delightful opportunity to be invited by Serendipity Wine Imports representative, Felicia Gonzales to taste a few of the Failla (pronounced FAY-la) Wine selection. We met up at a local seafood bar called Sandbar located at the Pearl Brewery here in San Antonio along with Matt Naumann, assistant winemaker at Failla Wines, and Sandbar sommelier. We sat down to a sun-kissed table covered in white linen and fancy silver spoons and spitoons (fancy!) As I was being poured the first wine I remember Matt saying how Failla wines all had a common thread of lively acidity running through all the wines. This is what sparked my memory to think of an entire album to pair with these wines – "Le Fil" (luh-feel) by Camille, a famous french singer/songwriter. "Le Fil" is the second album by Camille, the title translates as "The Thread" and features the same 'tone' throughout the entire album, basically a low-level drone that is in the background of every song, which Camille has described as 'her note'. (For all you musically inclined folk out there, that note is a B. Funny enough, Camille mentioned that many people returned the record, thinking this sound was a fault with the recording, lol. Here are a couple of her songs from the album. Look up the other songs, they all have that "common thread" just like the delicious acidity of Failla Wines :)

Of the four wines we tasted, one was white, the 2010 Failla Chardonnay (Retail $50-ish). This wine is a special Failla wine as it is the first one released that has been partially fermented in large concrete-eggs. Yup, you heard that right. Google it.  The rest has been fermented and aged 'sur lie' (aka fermented on its dead residual yeasts, yum) for 10 months in French oak. The nose has a bit of a stone/flint like aroma, followed by tropical scents of flowers, honey, lemon and even hints of pineapple. This wine was very complex, and each time I took a whiff, a new aroma presented itself. It was creamy, delicious and the acidity made me drool :) Trust me, when I drool while drinking wine,  98% if the time it means the wine is DEE-LISH-US the other 2% is when I fell asleep with wine in my hand, but that was not the case here.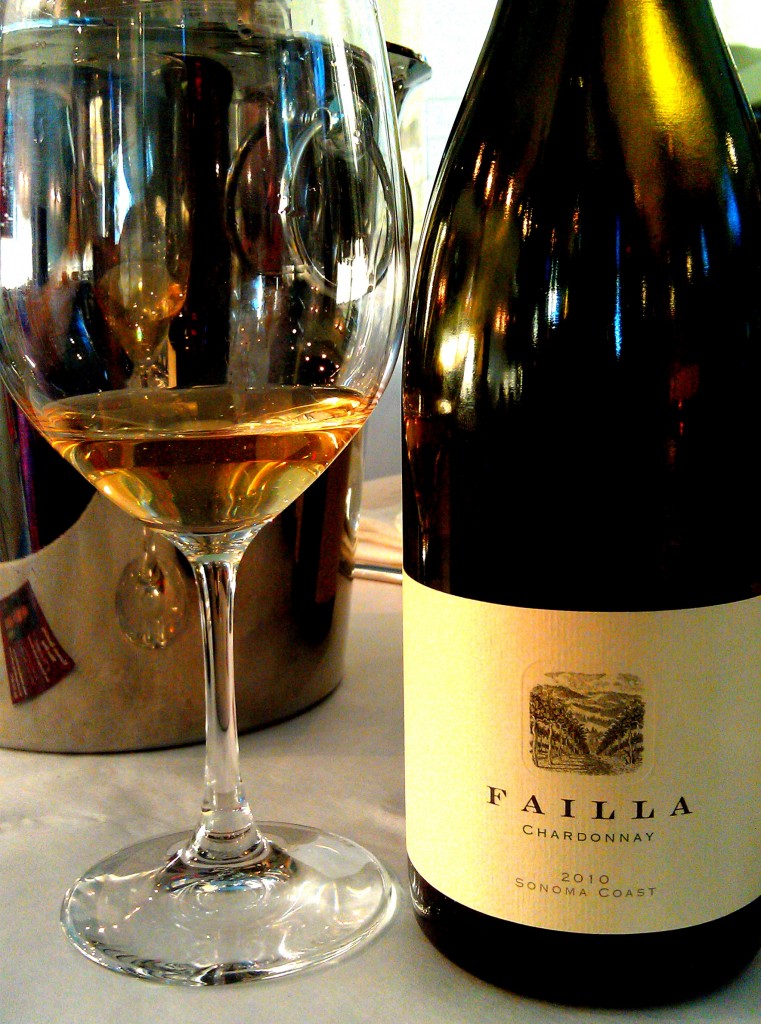 The next wine we tasted was the 2009 Failla Pinot Noir (retail $50-ish). This wine was made as an homage to Burgundian style Pinot Noirs with that rustic leather, earthy, barny, fresh red fruit jazz going on. Additionally it has hints of cola, almond, flowers, the tannins were smoother than a baby's bottom, and they acidity was there again to make my mouth dance with joy! At this point, I had to take a moment and reflect on what I was about to get myself into. If this 'entry' level Pinot was that good, what in the freak were the other ones going to do to me? Was I prepared for that? All I could here in my head at that moment was Beyonce singing "I don't think you're ready for this jelly!" :P
The third wine of the afternoon was the 2009 Failla Pinot Noir 'Hirsch Vineyard' (retail $85-ish). The second I placed my snout in the glass, I was instantly whisked to an autumnal open market :) All the delicious scents of fall were swirling in this glass: falling autumn leaves, back-to-school scents of sharpened pencils, holiday berry pies, fall cooking spices like white pepper and the zippy acidity of fall cranberries:) Yum! My eyes literally rolled to the back of my head :P
The last wine on our 'common thread' tasting adventure was a very special one for me, aside from it being a magnificent wine, it came from a vineyard with the same name as the college I went to for my undergraduate degree … Occidental :) Woot Woot! The 2009 Failla Pinot Noir 'Occidental Ridge Vineyard' (retail $75-ish) was chock-full of baking spice, forest floor, and delicious berry aromas :) The acidity and tannins balance out these delicious aromas making for an extremely incredible and amazing wine, but they again anything coming from Occidental typically is.
After I finished tooting my own horn about being an Occidental alum, the group decided oysters were in order … when are they not ?!? The Sandbar offered numerous different types of oysters, so we decided a sampling of 6 different types would do the trick. These oysters were so delicious you didn't need to doctor them up with anything :) And who knew oysters could be so different? I think many oyster tasting are in my future :) Oh oysters, how I love thee.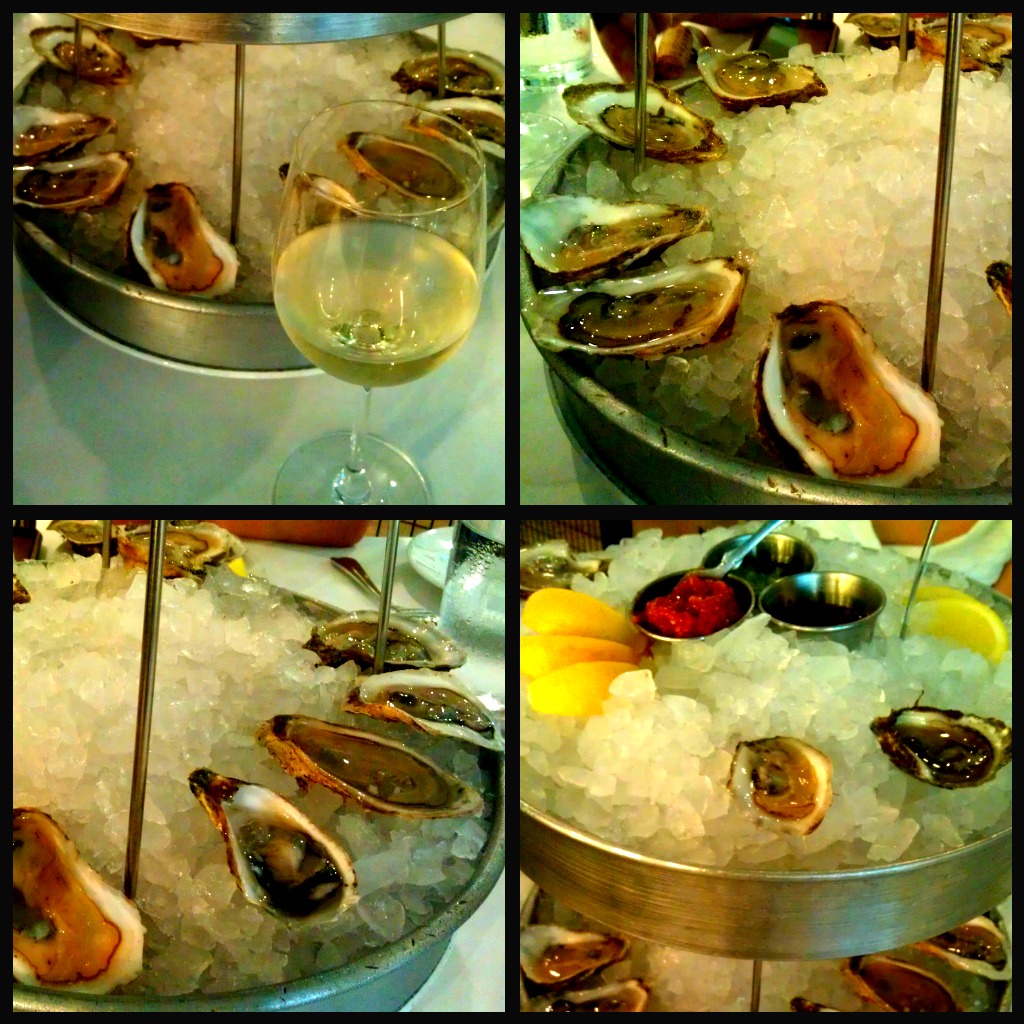 Thank you to Serendipity Wine Imports for this lovely opportunity and thank you to Failla Wines and Matt Naumann for the delightful experience of tasting your wines.